The above is the new cover for The Life and Loves of Gringo Greene

The Life and Loves of Gringo Greene - A Modern Love Story
Have you ever been in love?
Was it good for you?
Would you do it again?
Gringo Greene has never been in love. That's half his problem.

But when a young woman gives in her notice at Dryden Engineering no one really cared that much,
except perhaps Gringo Greene.

In her absence he dives into a series of frantic affairs that will change his life forever, but can he find happiness and contentment, and more to the point, will he ever be able to forget her?

The Life and Loves of Gringo Greene explores the pain and confusion of
love, sex, domestic violence, and unrequited love, amid personal relationships
that crash and burn to nothing.

But ultimately where is Gringo Greene heading?
Toward his defining days, as he describes them, that's where, just like
all the rest of us.

The Life and Loves of Gringo Greene may remind you
of once you once had... of what is truly valuable... and just maybe...
of what you still seek.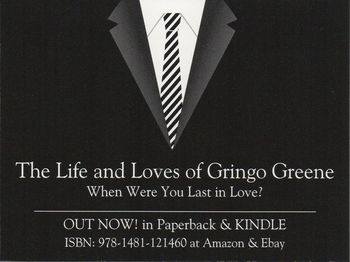 The greatest thing you will ever learn...
Is to love and be loved in return!
To read an extended excerpt from Gringo Greene Click Here
To read a book review on Gringo Greene please click here
To post a review on Amazon please go here Post a review on The Life and Loves of Gringo Greene
To obtain a copy of the book - kindle or paperback, go here