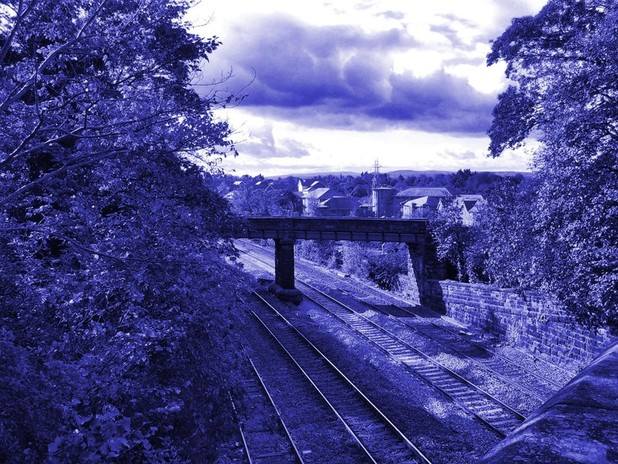 In The Murder Diaries there are not one but two suspicious deaths on the railway lines
The Murder Diaries - Seven Times Over
The Murder Diaries – Seven Times Over – introduces the reader to Inspector Walter Darriteau and the team, working out of Chester in the north-west of England.
If you like murder mysteries, whodunits, and crime fiction, and particularly English crime fiction, The Murder Diaries is right up your street.
So what's The Murder Diaries all about?
Here's a brief synopsis:
A Lay Preacher is run down on the by-pass. A Right Reverend falls beneath the London Express. An old fisherman drowns in the canal. Accident, suicide, or murder?

Inspector Walter Darriteau of Chester police doesn't believe in coincidences. He is interested, and his doubts are confirmed when another body is discovered.

Maggie O'Brien, propped up on a bench in Delamere forest, dew dripping from her nose, a cobweb stretched from her hat to the arm of the bench, death by carbon monoxide poisoning, yet there is no car to be seen in the damp, gravelly car park.

There is a killer at large. A random killer. A serial killer. A ruthless killer who will seemingly stop at nothing. But why? What is the purpose behind these seemingly unrelated deaths? It's a race against time. He or she must be stopped before they can kill again.

The Murder Diaries – Seven Times Over, is set in and around the City of Chester.

Walter Darriteau is an adopted Cestrian, he's nearing retirement, and now his colleague Sergeant Karen Greenwood covets his job, but Walter is not yet ready to end things on a sour note for he knows that this case will define his career. He determines to trap the killer, putting his own life at risk in the process.

Someone has to.
You can read a long extract from the book right here today by clicking here
You can read various reviews on the book here
And you can buy a Kindle copy of the book here for just a couple of pennies over a pound, and that has to be great value for any murder mystery fan.
It's also out on paperback if you prefer a nice old fashioned copy of the book in your hand.
Thanks so much if you do decide to buy. I really appreciate it, and if you would like to comment on the book feel free to do so and you can do that here. Better still if you would like to post a review of the book on Amazon you can do that too by going here Write A Review
. Thank you for your support and interest.

Could the murderer be trapped by CCTV while on the ring road?
You can read a book review on TMD-STO by clicking here or you can read the first two chapters right here right now by going here

There is a serial killer walking through the city. Can Walter catch him, or her, before they kill again?